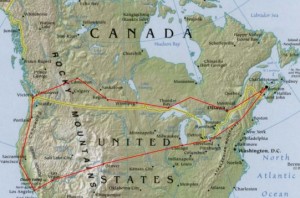 If you take a look at this map, you'll notice I've drawn a red line throughout the map. That red line is where I drove during this trip. My California trip consisted of 3 weeks of travel, accumulating 15,000 KMs (9300 miles) on my car. With only $2000 to my name, and no one to travel with, I took this journey on all by myself. It was the most amazing trip I had ever experienced.
This trip was a culmination of all the trips I had taken. I had set a goal for myself while I was working for Greco. I had wanted to reach Los Angeles, Toronto, Vancouver, and New York City, all by the time I was 25. I accomplished that goal before my 24th birthday in 1997 when I took this trip. Each time I had taken a road trip, I wanted it to be bigger and better than the last one. This was indeed the biggest trip yet.
Just to give you an idea of how I did it, and what I saw, I left Moncton on a Monday morning around 7am. I had intended to get all the way to Buffalo, NY before I stopped, but by the time I had hit Syracuse NY, I had been driving for so long that I was completely exhausted. So, I found a motel and crashed for the night.
Waking up at 6:30, I took a shower, and was on the road again by 7am. Driving through several cities, I managed to hit Chicago, IL, around 4:30. It was rush hour. I had originally intended to skip around Chicago so I wouldn't get hit by major traffic, but when I started to get closer, I decided against it. I mean, I was probably never going to be there again, so why not experience that city. So, I took one of the freeways and got stuck in the middle of supper hour traffic. With my gas tank sitting at empty, I was pretty sure the car was going to run out of gas while on the freeway. But, to my luck, and gratitude, I managed to squeeze every ounce of fuel out of that tank of mine, and made it to a gas station. I tell you though. It's pretty scary thinking you might have no fuel in a place like that. Ouch!
Regardless, I continued on my merry way and stopped for the night just outside of Chicago. I don't even remember the name of the place I just remember that it was night and I was tired, so I stopped driving for that evening.
With already a 3rd of my trip over, it was quite nice to have experienced that much travel in such a short time. But, the hardest part of the trip would come next. See, during those 2 days, I had driven through several cities and there was quite a bit of scenery around so I was never really that bored. I had taken along a little tape recorder to record a journal as I went. But, after I left the Chicago area, it was going to be pretty barren from there until I hit Denver. There wasn't any major cities, or hell, even towns, on the route I had plotted and it was a long trip.
When I hit Colorado, it was weird. I was expecting to see snow or at least mountains but it was very desert like. It wasn't until I got right up to Denver itself before I started to see mountains. But let me tell you, they hit you hard. Trying to get that old beast of mine up the hills was nasty. Those mountains are huge. It really hit hard on some of those spots where I couldn't even get the car above 50km/hr because the mountains were so steep. Anyway, I managed to crash in a small little ski motel for the night. I made some phone calls home and then got some much needed rest.
Now, originally, I had intended to go from Denver, to the Grand Canyon and then stay the night at the canyon and make my way to LA the next day. But as things went on, I found out how close I was to Las Vegas. I weighed the idea of going to Vegas or the canyon. Needless to say, Vegas won.
Las Vegas is an amazing city. I was only there for one night and I barely saw much there but I went through several rolls of film just taking pictures of the famous Vegas strip. There are so many casinos. I saw lots of those. I saw one of those drive-thru wedding chapels. Lots of cool cars, and just tonnes of stuff that you'd never get to see anywhere else. I walked around and even played in the casino at the Stardust but I really wasn't as much into it as I should have been. I was still quite tired from all the driving and my real destination was just a day away. So, I grabbed a motel, watched some tube, and slept. The next morning I knew my next stop would be Los Angeles.
As you might be able to imagine, driving in the hot Nevada desert was not the best experience in my life. Especially since my car had no air conditioning, and even opening the windows made the car hot. The heat was so intense that it's very hard to describe. I know that when I had my window down, I put my hand outside to feel the wind rushing against it. I thought this would cool me down a bit. But in fact, the air outside was so hot that it was worse than just being in the car. I had my shorts on, and had taken my socks off. It was insanely hot.
Eventually, I made it into the state of California. I was so happy. Eventually I made it to Los Angeles, but now I had an even harder task to accomplish. Finding a place to stay.
I had made no arrangements and had no real intentions of camping out in LA. I had thought it wouldn't be too hard to find a place to stay but I also didn't want to pay through the nose for a motel. I also had no maps of the area, and really had no idea where I was going. I finally saw an exit for a street that I had heard of. Santa Monica Blvd. I took the exit and found a 7-11. I bought a couple of maps and then started driving around trying to look for a place to stay. I managed to find this little hole of a motel right near Hollywood Blvd. I pay for my room, put my stuff in it and rested.
It wasn't long before I wanted to go somewhere. The room had air conditioning thank God but I was still anxious to get out and start seeing stuff. So, I grabbed my camera, and started walking. I knew Hollywood Blvd was close to where I was so I thought I'd go down there. I walked along the walk of fame and saw a couple of places I had seen on TV. One of them was Mann's Chinese Theater. This is the place where you see all of the stars put their hand & foot prints in the cement. It was pretty cool to be there.
However, shortly after that I had quite a scare. Being a little naive about what life is like in some of the bigger cities, I walked into a Macdonald's and sat down to have my supper. While eating, a man struck up a conversation with me. He saw I that I had a camera and started asking me about where I was from and if I had any places I was going to see while I was in town. The conversation seemed harmless at first but eventually led to him wanting me to give him a call later for him to "show me around town". He was an older gentlemen and I had no intentions of hanging around LA with some stranger. Needless to say, I grabbed my stuff and headed back to my room a little creeped out. I watched some TV and rested. I was going to need it for the next few days.
After doing all of this planning for this trip, the one thing I had not planned was what I was going to do once I got to LA. I got there and had virtually no idea what to do. So, the next morning I got up and went back down to the theater and signed up for one of those LA bus tours. It seemed like a good idea and it made sense since I had no idea where I was going to end up. The tour ended up being a great idea. Through that tour, I got to see some really cool places. Griffith Park, Dorothy Chandler Pavilion, Beverly Hills, The Hollywood Bowl, some farmers market place, and just different parts of the city that I may not have been able to find on my own.
Eventually, I ended up back at the theater with nothing to do and it was about 3:30 in the afternoon. So, I got in the car and went for a drive. I drove all around just looking at different places and it was pretty cool. Eventually I ended up at the Santa Monica beach. I had gone out there because my friend from back home had asked me to bring him back some water from the Pacific ocean. Santa Monica was pretty cool but I didn't stick around there for very long. I ended up just driving around aimless for something to do. Eventually, I got sort of half lost but made my way back to the motel where I watched some free porn and game shows before I fell asleep.
One good thing did come out of that creepy guy at Macdonald's. He had suggested that I check out Universal City. He said that it was probably the best place in the city to check out. So, barring any more creepy incidents, I took his advice and went to check it out.
Seeing Universal would prove to be the highlight of my vacation. That place was awesome. $37 for admission to the park but that included access to everything there. All of the rides and attractions. It was spectacular. I got to see a lot of cool stuff. The "Back To The Future" ride and attraction was definitely the coolest part. The ride was insane, but I got to see the Delorian from the movie, plus some behind the scenes special effects that were used to make the movie. I got a tour of one of the back lots where they actually shoot movies, and saw a lot of different things. It was truly amazing. I am so glad I went there and if you ever get the chance to see this place for yourself, don't hesitate. It was awesome!
By the time I was done there, I still had lots of energy and it was only mid-afternoon so I thought I'd take a trip down to Disneyland. Now, before you start wondering, I went down there for 2 reasons. 1) I wanted to see the place to see what the hype was all about and 2) My mom had asked me to get her a shirt from there. So, I went there and took some pictures and looked around but the place was way too crowded. I couldn't believe the amount of people there and it was just un-settling to have that many people around. So, I didn't stay long. I paid my admission (which was too much if you didn't go on a ride) and looked around, grabbed some souvenirs, and left.
Now, what I failed to mention to you before was that after I left Universal, I stopped at my motel room briefly. When I got there, I had quite a problem getting the door to close and lock properly. I had to slam it shut repeatedly and even after that, it would barely lock. I got into a heated argument with the motel manager which ended with me leaving for Disneyland, then returning demanding a refund for the next nights stay. I had pre-paid for 4 nights but because of this problem, I cut my stay short by a day and left Monday morning. I was sick of LA and wanted to go somewhere else.
I got up Monday morning and headed out. I was now on my way to Victoria, BC where my friend Ruth-Anne lived. It was at least 18 hours if not more from LA but I was going to make it. Through my travel up the west coast, I did get to drive through San Francisco and cross the Golden Gate bridge. That was really cool. Driving through downtown SF was neat too but crossing the bridge was nice. I didn't get any decent pictures as it was quite foggy that afternoon but I did get a couple.
I didn't make it all the way to Victoria without stopping. I stopped somewhere along the way and slept for a couple of hours. It was just at a rest stop but it did give me a little bit of sleep that I desperately needed.
I got to Victoria and my friend Ruth-Anne wasn't home. Can you imagine that? I was in luck though. As soon as I turned to leave her driveway, I saw a short redhead walking to the house and that was her. Thank goodness.
My stop in Victoria would prove to be a good and bad one. It was nice to finally see someone I knew and be back in Canada. But much to my dismay, the car broke down. After driving all of this distance, the heater core in it died, and it was leaking coolant all over the place. But thanks to credit cards and Canadian Tire, the car was fixed and my Victorian stay was extended by a day.
I left Victoria with the intention of staying in Vancouver a day. That didn't happen. I ended up driving through Vancouver and not even giving it a second look. I had lost the interest in being there and didn't really have anything to see there anyway. I kept on trucking through to Alberta and eventually hit Jasper and the Rocky mountains. Wow. They looked much nicer on the Canadian side as they have more snow on the top and really do look nice. I managed to get all the way to a place called Hinton where a high school friend of mine was working as a DJ. I crashed at his place for the night.
Since my dad lived in Edmonton, and I was so close, it only made sense to make a stop there. That would be my true time to take a break. I took the 3 hour drive up to Edmonton and stayed the weekend with my dad. It was really nice to be there and see him again. It was a much more emotional departure for me than it had been before but I was really glad to see him.
When I left Edmonton, I made the conscious decision that I was going to get home as soon as possible. Needless to say, I did a LOT of driving. I basically went from Edmonton to Winnipeg non-stop. I crashed in a campground for a couple of hours and left before the place opened up again. I then drove straight through to somewhere in upper Ontario where I got a little cabin and ate and slept. From there, I drove straight through past Quebec City where I slept for about 3 hours in a rest stop and then drove all the way back to Moncton. I was so anxious to get back home and into my own bed that nothing was going to slow me now. Ironically, by the time I got back to Moncton, I wasn't tired anymore. I ended up going to visit a friend of mine at work because I was so excited to be back in Moncton. It was indeed a long trip home.
There were many ups and downs during my long trip but I think it was worth it. Strangely enough though, I was disappointed by it. The actual stay in LA was a major disappointment. I didn't see any celebrities and I didn't enjoy that city at all really. In retrospect, the only good thing that came out of being in LA was seeing Universal Studios. But, the entire trip as a whole was an amazing experience. I am so glad I did it and if I had the time and money, I'd probably do it again, but different. Wow. What a long voyage!